A Great Idea Takes Root
Community Dental Care Brightens the Future
There is a program in Rochester that is changing the lives and futures of its patients and providers. Community Dental Care (CDC) offers quality dental care to underserved populations.
According t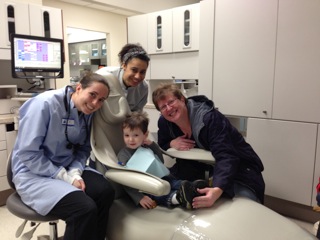 o the Centers for Disease Control and Prevention, about one-third of the American adult population does not see a dentist annually—a significant problem as poor dental hygiene has been linked to poor overall health. Locally, the CDC wants to change that. With six operatories, the clinic averages 46 patient visits per day. Doctors explain basic dental hygiene, perform exams, treat cavities, extract teeth, create dentures, and perform root canals.
But service to this ethnically diverse population is not without difficulty. "Most of the children seen here have serious cavities. Some patients have mental issues making dental care a concern, since they may not understand the long-term implications of good oral hygiene," says Vacharee Peterson, dentist and clinic CEO.
Although the clinic mostly sees first-time visitors and has already expanded its hours, additional growth is only a matter of time. Currently, the clinic has a one-and-a-half month waiting list. "
We still don't have enough room to take all the patients that we need to see," says Peterson. "The long waiting time is problematic because, as we see these patients for the first time, we know they will be returning. Sometimes, patients must come for several visits because the problems have been let go for so long. Many adults are coming in with advanced decay issues and requiring dentures, which take a minimum of four visits to be fitted properly. We want our patients to have a quality experience. If we do our job right the first time, we won't see the same problem coming back again and again," she says.
Currently, more than 90 percent of the clinic's patients are on public programs, but the clinic also accepts payment on a sliding scale for those who are uninsured and provides mini-grants for with no dental insurance. Supported by individual donors and foundation grants, the mini-grants are used to pay for exams, extractions, supplies, and staff to do the dental work. A $250 grant will pay for one extraction.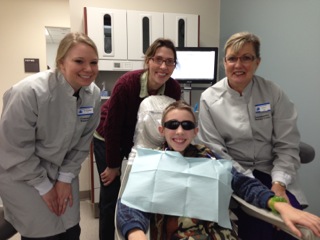 The groundwork for the clinic was laid back in fall 2011, when Peterson was contacted by Kris Billman, director of Children's Dental Health Services (CDHS), about the closing of the Main Street Dental Clinic program that had served thousands of patients over the past 15 years. Its closing meant that hundreds of children and their families on public programs would have limited options for dental care.
Following conversations with the United Way, Olmsted Public Health, Migrant Health Services, Inc., and providers of dental and health care services for low-income and minority people in the Rochester area, they confirmed there was a great need for dental services to underserved populations. Subsequent conversations with representatives from the Mayo Clinic, Rochester Area Foundation, and United Way convinced them there was great interest in supporting a new clinic. "We were welcomed with open arms," says Peterson. "This city recognizes and has a heart for those in need."
The newly formed Community Dental Care Clinic (CDC) opened within a year of the original vision because of the generous response from the Rochester community.
The clinic's 1,700 square-foot home is in the Heinz Center on the Rochester Community and Technical College (RCTC) campus next to the Migrant Health Care Clinic, a co-location that has been a significant blessing. Cost savings were realized since the site was already plumbed and wired for four dental operatories. In addition, RCTC has helped the CDC with small renovations and allows the clinic to share use of the nitrous oxide/oxygen tank, the compressor, and the suction machine that currently services the dental hygiene and assistant training clinic upstairs. The Migrant Health Care Clinic has allowed the CDC space for employee lockers so staff has a location to put their coats, boots, and lunches. "Some of the graduates from their dental assistant program have joined our clinic, as well," adds Peterson. In addition, the program has been awarded an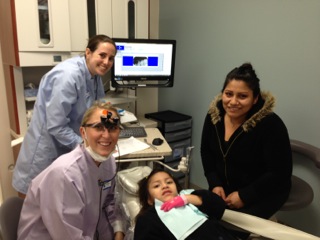 Americorps volunteer for the coming year that will assist with outreach and patient record organization.
Though the success of the clinic is undeniable, there is still a long way to go. Peterson would like to see updated equipment, continued growth and expansion, and more services like the Program to Improve Community Oral Health (PICOH), which provides prevention and educational programming for children and pregnant mothers. "The program has been instrumental in helping new immigrant and low-income populations learn the importance of oral hygiene. We would love to bring this program to Rochester."
CDC Wish List
Panorex X-ray Machine ($30,000)
Miele dishwasher ($8,000) for instrument sterilization.
Central console with sink, lighting, supply cabinets ($13,000).
Computers for staff.
To learn more or make a donation, visit .