First Homes Community Land Trust
Building a Legacy of Affordable Housing
Walking into Desiree Franken's home, it's clear how happy she is to be there. "It's like it was meant to be," she says.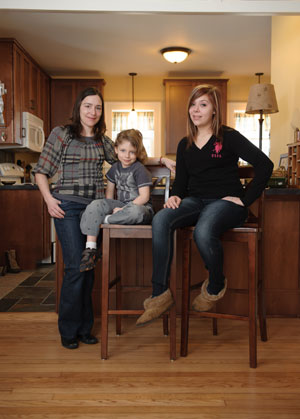 Almost two years ago, from the back porch of her apartment, she watched construction of a First Homes project. " I would never be able to afford something as nice as this," she thought. Today, Franken, her daughter, Astyia, and son, Miles, call it home. A labor and delivery specialist in the Family Birth Center at Mayo, Franken never considered home ownership within reach. But space constrictions and a longing for a place of her own led her to call the number on the First Homes sign. In doing so, she learned that
First Homes provides permanently affordable housing through its Community Land Trust program. Homes in foreclosure are purchased, refurbished, and re-sold. The land is retained in "trust" with the program, which eliminates one of the more expensive elements of real estate transactions, especially in inner city areas where the land is always more pricey than the home because demand for buildings, parking lots, and commercial enterprise areas is high. The homeowner pays a small lease fee to First Homes for the land.
After reviewing her finances with Shirley Lee, the First Homes realtor, Franken discovered she qualified for the program. "I had good credit and met the eligibility requirements for income. Because I was a first-time homebuyer, I needed to take a class on all the things one has to do as a homeowner. It was really helpful. I know what my obligations are," she says. Through the First Homes program, she also secured an interest-free, zero-down closing loan.
Franken's new home had received $40,000 in internal and external renovations, including opening up interior walls to improve traffic flow, adding creative details, painting, refinishing floors and woodwork, and adding new cabinetry, fixtures, appliances, a water heater, roof, and windows. "I knew this was 'my house' because everything I already had went so well with what was in it. The colors are perfect. It all works so well together." Thrilled with her home, Franken has continued to update it, adding a fence and details to the water feature pond. ""Homeownership is possible," she says. "I have more security, stability and confidence. And I can have family holidays. I have space for that now, and I never did before. That's the best part."
Like Desiree, Kim and Antony*, along with their children Lilah and Judah, love their Community Land Trust home. Prior to buying their home, the family had a difficult time finding places to rent that would accommodate their dog, baby, child, and public assistance. "We dreamed of owning our own house but didn't think we could find one for a reasonable price that didn't require significant upgrades to be livable," says Kim.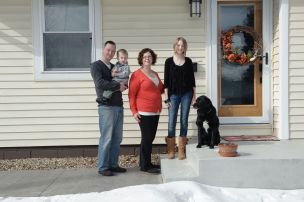 Still, they looked at homes, chasing the dream, until they came across a First Homes sign. After learning more about the program, they knew they had a chance at home ownership. Lee showed Antony and Kim several homes, including the one that Desiree now owns, until they found a large foursquare, farmhouse-style home just down the road from where they lived. Kim loved the large yard and could picture her children and the dog playing there. She also envisioned a garden. Antony was impressed by the workmanship. "I could see we had a perfect match. That's the best part of my job," says Lee.
Though they were intimidated with the process of buying a house, Kim and Antony were pleasantly surprised. "Shirley supported us through the lending process. The mortgage lender was really great, and she made sure we had all the necessary paperwork. We took the first time homebuyer class to be sure we knew what we had to do. The whole process was really easy," says Kim. "It's almost to good to be true!"
Both Kim and Antony wish that First Homes could purchase and refurbish all the area homes that are in need of work. "It really benefits the entire neighborhood as well as the people who get to live in them." For now though, they are content to live in their own home. "We are here to stay. The kids can grow up here. We can make lifelong friends. I have the space for the garden I've always wanted. It was meant to be," says Kim.
*Last names not provided