Nonprofits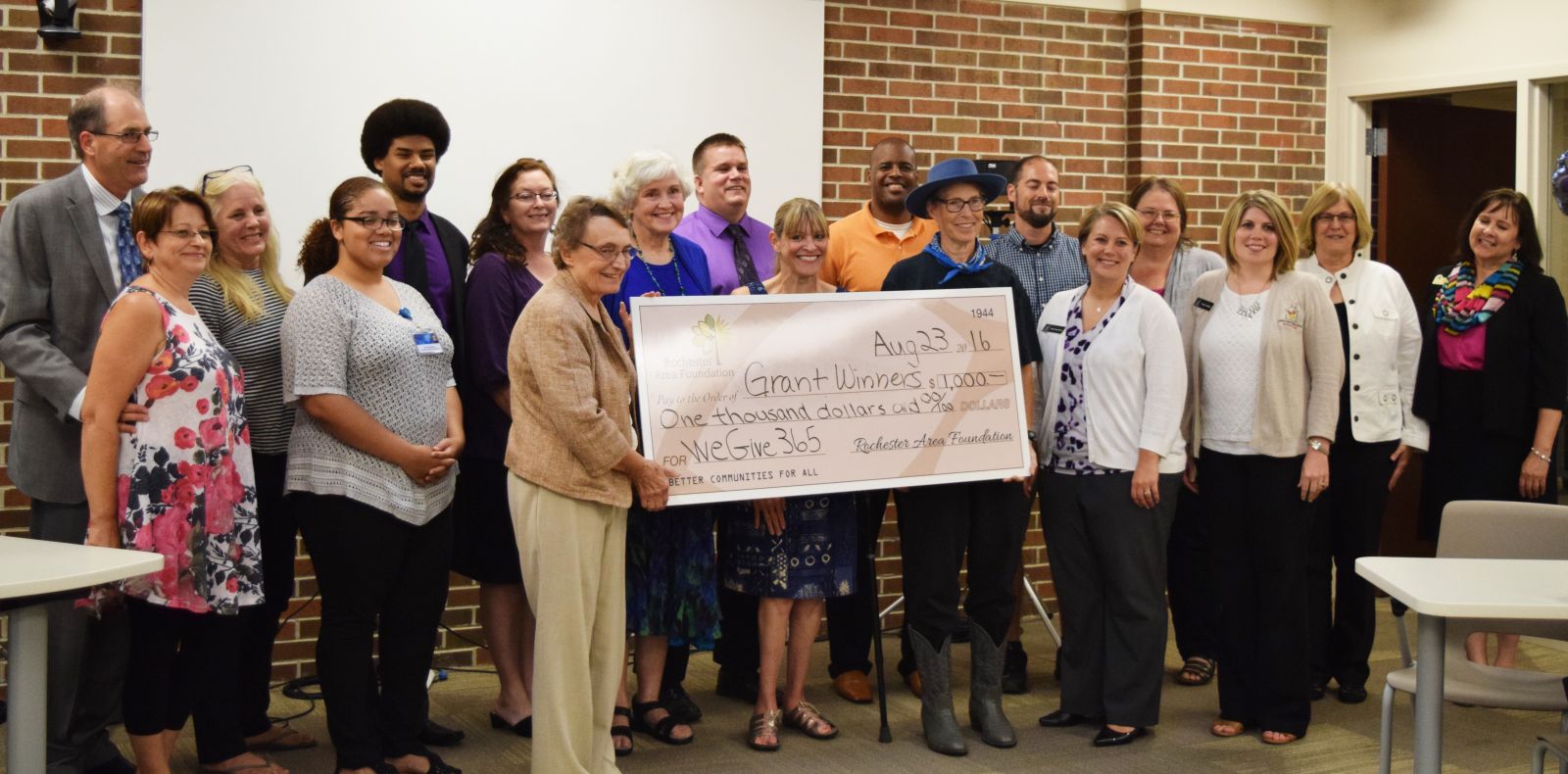 The Rochester Area Foundation serves as a hub of activity, education, resources and connections for nonprofits. This special focus on nonprofit support has proven to be highly valuable and benefits communities in the greater Rochester area. We carry out OUR mission by supporting THEIR mission as nonprofits serve the people in our catchment area. A comprehensive and targeted web of support is under development for new and emerging nonprofits to assist them in developing fully to become self-sustaining.
If you have questions or inquiries, please feel free to contact Rochester Area Foundation staff.
Professional Development
The Nonprofit Academy workshop series consists of ten monthly educational events featuring local experts presenting in areas of interest to executive directors, managers, board members and staff of area nonprofits. These interactive and entertaining workshops include information on the following:
board development and governance
strategic planning
budgeting and understanding the special needs for nonprofit financial planning
general business planning
legal issues
fundraising and resource development
donor and volunteer management
human resource issues
marketing
networking.
The series is designed to help nonprofit staff develop targeted skills for carrying out their missions effectively, help their organization develop capacity and sustainability, and to provide networking opportunities with other nonprofits for better collaborative efforts.
Incubator
The Rochester Area Foundation has created the single nonprofit incubator hub in Rochester capable of serving 12 emerging and/or new nonprofits facing budget constraints. The incubator provides 124 square feet per client with turnkey office services: a desk, chair, file cabinet, wifi access, copier, secure entry 24 hours/day, meeting and conference room access, educational workshops, mail and signage service, technical assistance and all utilities. This allows nonprofits to acquire a home office, mission-driven support services, and a peer group of colleagues at a fraction of the cost of commercial rental alternatives so that they can direct their assets toward corporate development and achieving their mission.
Learn more about the Nonprofit Incubator.
Community Meeting Space
The Rochester Area Foundation building was designed as a resource to serve the community with convenient, well-equipped, inexpensive public meeting room access. It serves as the "home" for many community groups with monthly meetings, workspace for community initiatives and gatherings, and as meeting space for nonprofit organizations. Three spaces are available for rental: a conference room seating 8, a formal board room seating 20, and a flexible community room seating up to 80. All rooms are equipped with an in-house computer and dedicated secure server, audiovisual equipment, videoconferencing capabilities, wifi access and sound system. Nonprofit groups receive a 50% discount on all usage.
Learn more about renting community meeting space.
Technical Assistance
Rochester Area Foundation staff has technical expertise in many areas that are valuable for emerging nonprofit entities. Staff members are available for consultation with regard to fund raising, donor engagement, communications and marketing, grant writing and research, project management and evaluation, strategic planning, volunteer management, and board governance. In addition, because of the Foundation's role as a convener and participant in projects and collaborations across our community, Foundation staff is helpful in locating resources and making connections for nonprofits.
Funds
As the philanthropic endowment bank for the community the Rochester Area Foundation is uniquely structured to encourage local gifting and philanthropy through individual donor advised, donor designated, and agency funds. Area nonprofits of all size can deposit funds with the Foundation to support ongoing operations, provide scholarships, and build for future projects. In addition, the Foundation facilitates opportunities for individuals to easily support specific nonprofits in their area through designated bequests, field of interest funds and charitable trusts that are managed by Foundation officers. As a trusted, solid financial partner, the Rochester Area Foundation assists nonprofits to develop financial strength with income streams to support their organization in perpetuity.
Grant Making
The Rochester Area Foundation's eclectic grant making portfolio includes endowment grants, shareholder fund grants, and individual donor grants. Grants are directed to local nonprofits through the Rochester Area Foundation to address a wide range of area needs including, but not limited to: community issues, education, health and human services, housing, the environment, arts and culture, and historic preservation. Direct support for projects and programs is offered 3 times each year through competitive grant cycles (2 Cycles of Better Communities Grants and 1 cycle of weGive365 grants). A grant distribution committee composed of community representatives, each with extensive community volunteer experience, explores each grant request in order to validate that it best meets the community needs. Grant recipients have access to additional donor support by individual fund holders.
Learn more about the application process for discretionary grants and other grant programs. You can also explore the guidelines for applying by clicking here.
Fiscal Sponsorship
The Rochester Area Foundation currently serves emerging causes and nonprofit organizations with sponsorship arrangements, thereby serving as an administrative "home" and receiving charitable contributions on behalf of the organization. Fiscal sponsor arrangements benefit organizations or programs that are not tax-exempt by providing a flow-through pathway for revenue that the organization may not otherwise be in a position to receive. Additionally, the guidelines of most foundations explicitly require grantees to be recognized as tax-exempt by the IRS. Fiscal sponsorship arrangements allow prospective grantees to use the Foundation's tax-exempt status to qualify for grants.