OLMSTED COUNTY MARKET AREA

2015-2020 Housing Framework
Strategies for Success and a Call to Action
A housing market that offers the full spectrum of housing choices is critical to a vital economy, to attracting and retaining a qualified workforce, to the educational achievement of children, and to better health outcomes for all residents.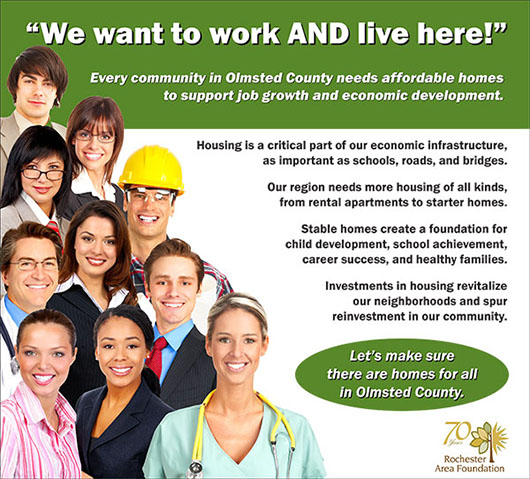 The 2015-2020 Housing Framework
The 2015-2020 Housing Framework is being developed by Greater Minnesota Housing Fund in partnership with Olmsted County, Rochester Area Foundation, and Mayo Clinic. The framework provides strategies for successfully meeting the challenge of creating affordable housing and calls to action stakeholders throughout Olmsted County.
Affordable Housing is Critical to
Creating Healthy Communities
Communities throughout Olmsted County aspire to be vibrant, livable, inclusive places where people of all backgrounds can find ample opportunity for employment, live in safe, decent, and affordable housing, patronize local businesses, and engage as active citizens and participate in community life.
Housing is a critical part of a community's economic infrastructure, as important as schools, roads, and bridges. Housing that is affordable to individuals and families is an essential building block of livable communities and crucial to a growing economy, enabling employers to attract and retain a qualified workforce. Every community in Olmsted County needs affordable homes to support job growth and economic development.
Safe, decent, and affordable housing is the foundation of stable families, early childhood development, school performance, and healthy communities. And addressing the tragedy of homelessness is not only the right thing to do, it is the smart thing to do, given its enormous toll on families and children, and its broader social and economic impacts.
Communities are stronger and more attractive when economic, educational, and housing opportunities are available to everyone. To remain competitive and vital, a community needs to offer housing of all types, affordable at a variety of income levels and desirable for people at different stages of life.
Strategic investments in housing revitalize neighborhoods, stimulate reinvestment, increase the property tax base, and strengthen the housing market.
The 2015-2020 Housing Framework, in connection with planned economic development initiatives and in recognition of local values around equal opportunity, presents an approach for realizing the achievable goal of creating more than 2,000 affordable homes by 2020 in the cities of Rochester, Byron, Chatfield, Dover, Eyota, Oconoco, Pine Island, St. Charles, and Stewartville, as well as the townships in Olmsted County.

Market Study about Housing Needs in Olmsted County
Full Report: Housing Needs for Olmsted County, Maxfield Research Report, May 2014
Summary of Findings: Housing Needs for Olmsted County, Maxfield Research Report, May 2014
Recent Editorials and News Coverage about Housing Needs in Olmsted County
City to study affordable housing options. Post-Bulletin news story Andrew Setterholm, June 21, 2016
Our View: We need broader housing discussion. Post-Bulletin Editorial, May 16, 2016
Our View: Talk of HRA levy should spur action. Post-Bulletin editorial, February 21, 2015
Paul Wilson and Stephani Podulke: Olmsted County housing plan needed as region grows. Post-Bulletin opinion, January 16, 2015.
City, county officials discuss affordable housing needs. Post-Bulletin news story by Rachel Leingang, July 24, 2014.
Study: Rochester on verge of housing crisis. Post-Bulletin news story by Jeff Kiger, May 7, 2014.