Nuss Truck & Equipment Donor Advised Fund
A Legacy of Stewardship, Service, and Support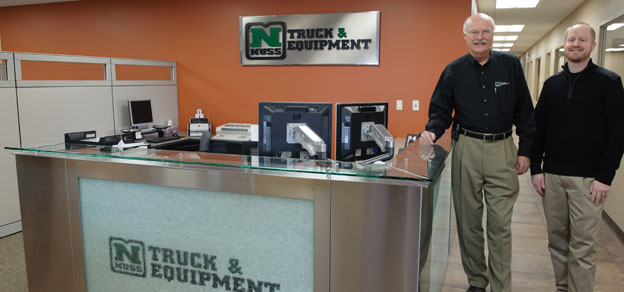 Bob Nuss has a passion for customer service and philanthropy.
It all began in 1979, when Bob moved, with his family, from Rockford, Ill., to Rochester. Though he worked in his father's Mack Truck business, he wanted to raise his family in Rochester. In December of that year, he purchased the truck stop and land at the top of the hill on highway 63 south of Rochester. While he realized Rochester wasn't a trucking hub, Bob believed this would be a good opportunity to solidify his business intentions. Not long after, the business expanded with store and service openings in Mankato; Eau Claire, Wis.; Duluth; St. Cloud; and Roseville.
So what's the key his success? "Customer service," he says. "We are stewards of the money we receive. We owe our customers great service and products. We owe our employees good jobs and compensation. And we owe our community support."
The Nuss business philosophy extends toward its philanthropic efforts as well, which is why the company established the Nuss Truck & Equipment Donor Advised Fund with the Rochester Area Foundation. "It's a perfect solution for corporate as well as personal philanthropy. To me, Rochester Area Foundation goes hand-in-hand with the greater Rochester community. It makes sense economically and logically as the best vehicle if you live in the Rochester area and are philanthropic."
The decision to name the fund Nuss Truck and Equipment was made because the business "will be here long after I'm gone," says Bob. "This is a way to establish a legacy in philanthropy for the corporation."
Both individuals and corporations are able to create donor advised funds. A corporation must name the individuals responsible for advising donations from the fund and can change these individuals as needed to ensure giving in perpetuity. Brad Nuss, Bob's son and the company's CFO, is the main contact for its donor advised fund. He is pleased with the fund because it gives them options in supporting the community. "We operate in several locations and, with the donor advised fund, we can support all the communities where we are located. We can use it for matching funds as well. When Hurricane Katrina happened, we encouraged our employees to support the victims, and we were able to do a match for those funds raised," he says.
The fund also appeals to the company's business sense. "The donor advised fund is like a budgeting process for philanthropy," says Bob. "We can give to our fund in good years, and build it up. Then, in lean years, we are still able to support community needs. It evens out the ups and downs of the trucking economy." In 2008, for example, when the economy was poor and building and transportation slowed, Nuss Truck & Equipment had to reduce expenditures. Yet they were able to still support community needs through the donor advised fund.
The fund delivers an average eight percent annual increase due to the investment and growth philosophy of the Rochester Area Foundation.
"I believe in a philosophy that protects and preserves our investments while seeking to grow responsibly. That is good stewardship," says Bob.