Professional Advisors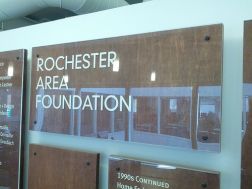 Professional advisors throughout the Rochester area help the community by telling their clients about how the Rochester Area Foundation can meet their philanthropic needs.
Many of the advisors who are aware of the foundation have an increasing number of clients who may be looking at forms of charitable giving. We appreciate the opportunity to help advisors assist their clients with Current Gifts and Planned Gifts.
Some of the clients of these advisors perhaps have been successful as business owners and want to give back to our community, which has helped them succeed over the years. Some clients may want to involve their families in a way that helps bring them together to make good giving decisions. In other cases, advisors' clients may just want to help others.
Whatever the situation, today's donors ask more questions and look to their professional advisors for answers and guidance each step of the way. The Rochester Area Foundation's Guide for Giving is a useful tool to explore the best giving options for your clients. Charitable giving with the Rochester Area Foundation is easy and we can customize funds to match just about any donor's interests and needs.
The foundation's professional staff is available to meet with area advisors to tell more about giving through the Rochester Area Foundation, and also is available to discuss options with advisors' clients. Please call our office at 507.282.0203 or email raf-info@rochesterarea.org the Rochester Area Foundation for a confidential conversation.